ID: eboled
Name: SparkFun Block for Intel Edison - OLED
Other Names: ssd1306
Category: display
Manufacturer: sparkfun
Connection: spi
The EBOLED is an ssd1306 with some modifications to work as an Edison Block. It is a 64x48 pixel OLED display that connects directly to an edison via it's 80-pin connector. Edison Blocks are stackable modules created by Sparkfun.
This block has some buttons on it that can be accessed using standard GPIO – this driver only concerns itself with the display.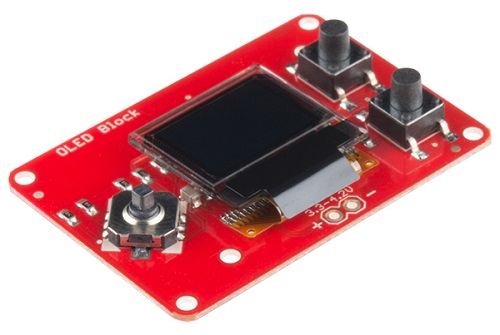 OLED Sensor image provided by SparkFun* under CC BY-NC-SA-3.0.
 
EBOLED (int spi=EBOLED_DEFAULT_SPI_BUS, int CD=EBOLED_DEFAULT_CD, int reset=EBOLED_DEFAULT_RESET)
 
 
~EBOLED ()
 
mraa::Result 
refresh ()
 
mraa::Result 
write (std::string msg)
 
mraa::Result 
setCursor (int row, int column)
 
void 
setTextColor (uint8_t textColor)
 
void 
setTextSize (uint8_t size)
 
void 
setTextWrap (uint8_t wrap)
 
void 
drawChar (uint8_t x, uint8_t y, uint8_t data, uint8_t color, uint8_t size)
 
mraa::Result 
clear ()
 
void 
clearScreenBuffer ()
 
mraa::Result 
home ()
 
void 
drawPixel (int8_t x, int8_t y, uint8_t color=COLOR_WHITE)
 
void 
drawLine (int8_t x0, int8_t y0, int8_t x1, int8_t y1, uint8_t color=COLOR_WHITE)
 
void 
drawLineHorizontal (int8_t x, int8_t y, uint8_t width, uint8_t color=COLOR_WHITE)
 
void 
drawLineVertical (int8_t x, int8_t y, uint8_t height, uint8_t color=COLOR_WHITE)
 
void 
drawRectangle (int8_t x, int8_t y, uint8_t width, uint8_t height, uint8_t color=COLOR_WHITE)
 
void 
drawRoundedRectangle (int8_t x, int8_t y, int8_t width, int8_t height, int16_t radius, uint8_t color)
 
void 
drawRectangleFilled (int8_t x, int8_t y, uint8_t width, uint8_t height, uint8_t color=COLOR_WHITE)
 
void 
drawTriangle (int8_t x0, int8_t y0, int8_t x1, int8_t y1, int8_t x2, int8_t y2, uint8_t color=COLOR_WHITE)
 
void 
drawTriangleFilled (int8_t x0, int8_t y0, int8_t x1, int8_t y1, int8_t x2, int8_t y2, uint8_t color)
 
void 
drawCircle (int16_t x0, int16_t y0, int16_t radius, uint8_t color=COLOR_WHITE)
 
void 
drawRoundCorners (int8_t x0, int8_t y0, int16_t radius, uint8_t cornername, uint8_t color)
 
void 
drawCircleFilled (int8_t x0, int8_t y0, int16_t radius, uint8_t color)
 
void 
drawRoundedCornersFilled (int8_t x0, int8_t y0, int16_t radius, uint8_t cornername, int16_t delta, uint8_t color)
 
void 
fillScreen (uint8_t color=COLOR_WHITE)
 
mraa::Result 
write (int x, int y, std::string msg)
 
std::string 
name ()