ID: mq4
Category: gaseous
Manufacturer: dfrobot
Connection: analog
The MQ4 Gas Sensor module is useful for detecting CH4 (Methane), and natural gas concentrations in the air. It has a detection range of 100-10000 ppm.
For optimum use, it requires calibration after a pre-heat time of at least 24 hours. See the datasheet for details.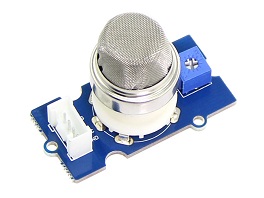 main(
int
argc,
char
** argv)
{
signal(SIGINT, sig_handler);
uint16_t buffer[128];
ctx.averageReading = 0;
ctx.runningAverage = 0;
ctx.averagedOver = 2;
while (shouldRun) {
int len = sensor.getSampledWindow(2, 128, buffer);
if (len) {
int thresh = sensor.findThreshold(&ctx, 30, buffer, len);
sensor.printGraph(&ctx, 5);
if (thresh) {
}
}
}
cout << "Exiting" << endl;
return 0;
}