ID: tm1637
Name: 7-segment Display
Other Names: Grove 4-Digit Display
Category: display
Manufacturer: seeed
Connection: gpio
TM1637 is a display controller for LED-based 7-segment displays. It can be used to address and write data to multiple display digits. This driver is based on the Grove version of the TM1637 display that uses 4 digits, thus making it ideal for clock displays, timers, counters, or even score displays in a two-player arcade game.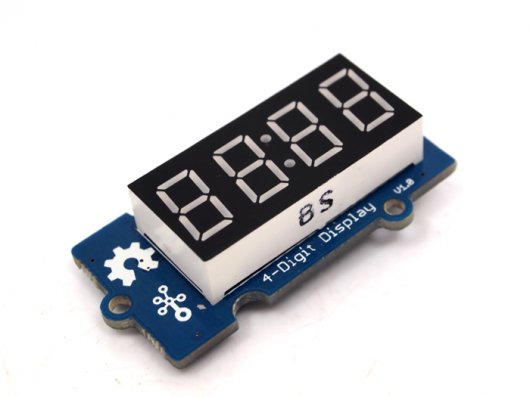 time_t rawtime;
struct tm* gmt;
char myTime[15];
fprintf(stdout, "TM1637 Display Example\n");
signal(SIGINT, sig_handler);
myDisplay.write(0x39, 0x09, 0x09);
myDisplay.writeAt(3, ']');
upm_delay(3);
while (run) {
time(&rawtime);
gmt = gmtime(&rawtime);
int hour = (gmt) ? gmt->tm_hour : 0;
int min = (gmt) ? gmt->tm_min : 0;
snprintf(myTime, 15, "%2d%02d", (hour + timezone + 24) % 24, min);
myDisplay.write(myTime);
myDisplay.setColon(point ^= true);
upm_delay(1);
}