ID: xbee
Name: XBee Serial Module
Category: wifi
Manufacturer: sparkfun
Connection: uart
This is a generic UART driver for use with Digi XBee modules. It was tested with the XBee S1 802.15.4 module and the XBee S6B WiFi module.
It provides basic UART support for sending and receiving data to and from the device. It is controlled by an AT or API command set.
It is connected at 9600 baud by default.
These devices are typically configured using Digi's X-CTU windows software, however it is possible of course to configure them manually using AT commands. See the examples.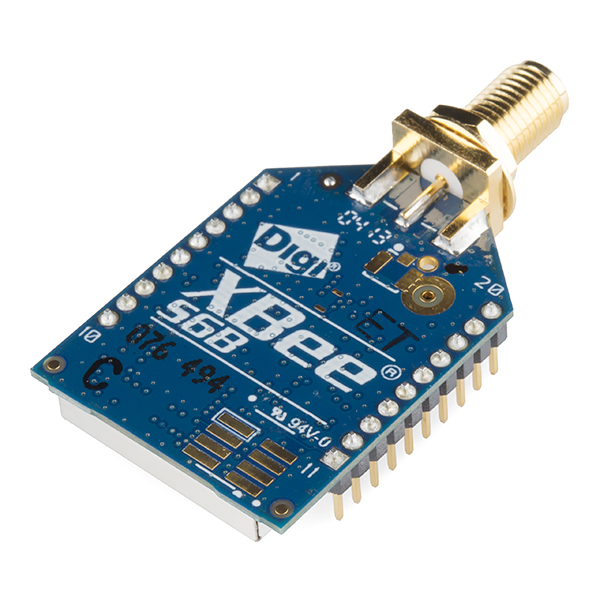 XBee Sensor image provided by SparkFun* under CC BY 2.0.
void
{
cmd += "\r";
string resp;
}
if (resp.empty()) {
cerr << "Timed out waiting for response" << endl;
return;
}
cout << "Returned (" << resp.size() << " bytes): " << endl;
cout << resp << endl;
}
int
main(int argc, char** argv)
{
cerr << "Failed to set tty baud rate" << endl;
return 1;
}
printUsage(argv[0]);
if (argc > 1) {
cout << "Sending command line argument (" << argv[1] << ")..." << endl;
sendCommand(sensor, argv[1]);
} else {
cout << "Querying verbose firmware revision (ATVL)..." << endl;
sendCommand(sensor, "ATVL");
cout << "Querying Serial Number High (ATSH)..." << endl;
sendCommand(sensor, "ATSH");
cout << "Querying Serial Number Low (ATSL)..." << endl;
sendCommand(sensor, "ATSL");
cout << "Querying address, if set (ATMY)..." << endl;
sendCommand(sensor, "ATMY");
}
return 0;
}