ID: adxl335
Name: Low-power, 3-axis +/- 3 g Accelerometer
Other Names: Grove 3-Axis Analog Accelerometer
Category: accelerometer
Manufacturer: seeed
Connection: analog
UPM module for the ADXL335 3-axis analog accelerometer. This was tested on a Grove 3-axis Analog Accelerometer. It uses 3 analog pins, one for each axis: X, Y, and Z.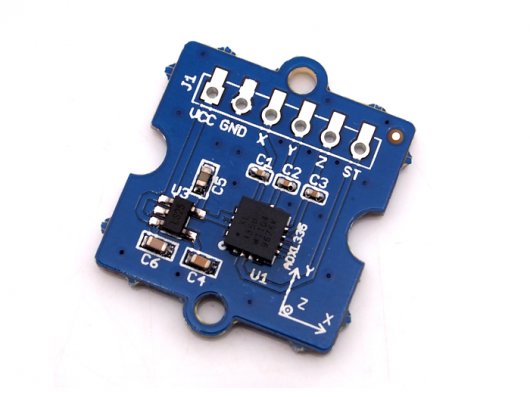 cout << "Please make sure the sensor is completely still. Sleeping for"
<< " 2 seconds." << endl;
upm_delay(2);
cout << "Calibrating..." << endl;
accel.calibrate();
while (shouldRun) {
int x, y, z;
float aX, aY, aZ;
accel.values(&x, &y, &z);
cout << "Raw Values: X: " << x << " Y: " << y << " Z: " << z << endl;
accel.acceleration(&aX, &aY, &aZ);
cout << "Acceleration: X: " << aX << "g" << endl;
cout << "Acceleration: Y: " << aY << "g" << endl;
cout << "Acceleration: Z: " << aZ << "g" << endl;
cout << endl;
upm_delay_us(200000);
}