ID: adxrs610
Name: Gyro Breakout Board (300 Degrees/second)
Other Names: ADXRS610
Category: compass
Manufacturer: dfrobot
Connection: analog
The ADXRS610 is a MEMS based single axis gyroscope with a range of +/- 300 degrees/sec. It also incorporates a temperature sensing unit that can be used for advanced calibration.
This sensor returns an analog voltage proportional to the rotation about the Z-axis in degrees/sec. The temperature component returns a proportional analog values in degrees C.
This driver was developed using the DFRobot ADXRS610 Gyro Breakout board.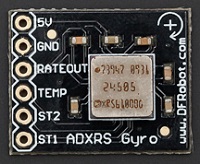 sensor.setDeadband(0.015);
while (shouldRun) {
cout << "Vel (deg/s): " << sensor.getAngularVelocity() << endl;
cout << "Temp (C): " << sensor.getTemperature() << endl;
upm_delay_us(100000);
}