ID: hmc5883l
Name: 3-axis Digital Compass
Other Names: Grove 3-Axis Digital Compass
Category: compass
Manufacturer: seeed
Connection: i2c
Kit: robok
Honeywell HMC5883L is a 3-axis digital compass. Communication with HMC5883L is simple and all done through an I2C interface. Different breakout boards are available. Typically, a 3V supply is all that is needed to power the sensor.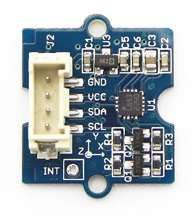 compass.set_declination(0.2749);
while (true) {
compass.update();
const int16_t* pos = compass.coordinates();
fprintf(stdout, "coor: %5d %5d %5d ", pos[0], pos[1], pos[2]);
fprintf(stdout, "heading: %5.2f direction: %3.2f\n", compass.heading(), compass.direction());
upm_delay(1);
}