ID: itg3200
Name: 3-axis Digital Gyroscope
Other Names: Grove 3-Axis Digital Gyroscope
Category: compass
Manufacturer: seeed
Connection: i2c
InvenSense* ITG-3200 is a 3-axis digital gyroscope. (https://www.sparkfun.com/datasheets/Sensors/Gyro/PS-ITG-3200-00-01.4.pdf) This sensor has been tested and can run at either 3.3V or 5V on Intel(R) Galileo.
However, it is incompatible with and not detected on the I2C bus by Intel(R) Edison using the Arduino* breakout board.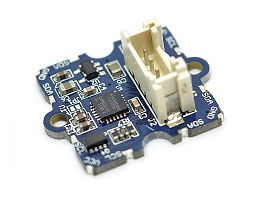 int16_t* rot;
while (true) {
gyro.update();
rot = gyro.getRawValues();
ang = gyro.getRotation();
fprintf(stdout, "Raw: %6d %6d %6d\n", rot[0], rot[1], rot[2]);
fprintf(stdout, "AngX: %5.2f\n", ang[0]);
fprintf(stdout, "AngY: %5.2f\n", ang[1]);
fprintf(stdout, "AngZ: %5.2f\n", ang[2]);
fprintf(stdout, "Temp: %5.2f Raw: %6d\n", gyro.getTemperature(), gyro.getRawTemp());
upm_delay(1);
}