ID: otp538u
Name: Analog IR Temperature Sensor
Other Names: Grove IR Temperature Sensor
Category: light
Manufacturer: generic
Connection: analog
Kit: hak
UPM module for the OTP538U IR temperature sensor
This module was tested with the Grove IR non-contact temperature sensor.
The sensor provides 2 analog outputs: one for the thermistor that measures the ambient temperature, and the other for the thermopile that measures the object temperature.
Much of the code depends on analyzing Seeed Studio* examples and the circuit design. As a result, there are several 'magic' numbers derived from their circuit design. These values are used by default.
The tables used came from the "538U VT Table__20_200(v1.3).pdf" and "538RT_table.pdf" datasheets.
These tables assume the object to be measured is 9 cm (3.54 inches) from the sensor.
This sensor will not work at 3.3v on the Edsion or the Galileo 2. It works fine on both systems at 5v. It will work at 3.3v on the Arduino 101 (tested via firmata subplatform on edison).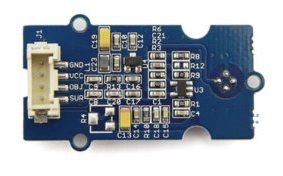 while (shouldRun) {
try {
cout << "Ambient temp: " << std::fixed << setprecision(2) << temps.ambientTemperature()
<< " C, Object temp: " << temps.objectTemperature() << " C" << endl;
} catch (std::out_of_range& e) {
cerr << "Temperature(s) are out of range: " << e.what() << endl;
}
cout << endl;
upm_delay(1);
}