ID: l298
Name: Dual H-bridge Motor Driver
Category: motor
Manufacturer: seeed sparkfun
Connection: gpio pwm
It was developed using the RobotBase Dual H-Bridge module.
This module can support 2 DC motors, or one 2-phase stepper motor. It requires 3 pins per DC motor (or H-bridge), or 4 pins for the stepper motor (uses both H-bridges).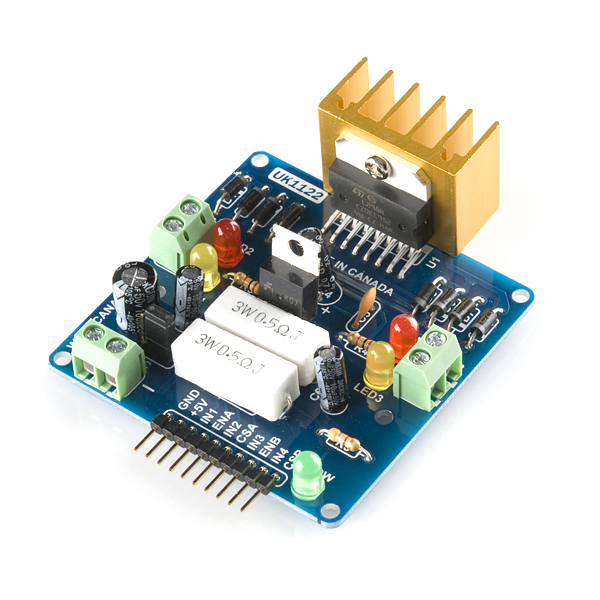 L298 Dual H-Bridge Motor Driver image provided by SparkFun* under CC BY 2.0.
Example driving a DC motor
cout << "Starting motor at 50% for 3 seconds..." << endl;
l298.setSpeed(50);
l298.setDirection(upm::L298::DIR_CW);
l298.enable(true);
upm_delay(3);
cout << "Reversing direction..." << endl;
l298.setDirection(upm::L298::DIR_NONE);
l298.setDirection(upm::L298::DIR_CCW);
upm_delay(3);
l298.setSpeed(0);
l298.enable(false);
Example driving a stepper motor
l298.setSpeed(10);
l298.setDirection(upm::L298::DIR_CW);
l298.enable(true);
cout << "Rotating 1 full revolution at 10 RPM speed." << endl;
l298.stepperSteps(200);
cout << "Sleeping for 2 seconds..." << endl;
upm_delay(2);
cout << "Rotating 1/2 revolution in opposite direction at 10 RPM speed." << endl;
l298.setDirection(upm::L298::DIR_CCW);
l298.stepperSteps(100);
l298.enable(false);