ID: ttp223
Name: Capacitive Touch Sensor
Other Names: Grove Touch Sensor
Category: touch
Manufacturer: seeed
Connection: gpio
This touch sensor detects when a finger is near the metallic pad by the change in capacitance. It can replace a more traditional push button. The touch sensor can still function when placed under a non-metallic surface like glass or plastic.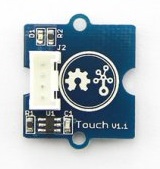 while (1) {
if (touch.isPressed()) {
std::cout << touch.name() << " is pressed" << std::endl;
} else {
std::cout << touch.name() << " is not pressed" << std::endl;
}
upm_delay(1);
}